Certification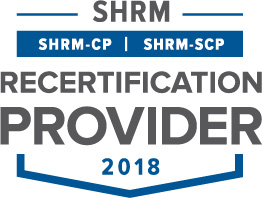 EPSHRM is recognized by SHRM to offer Professional Development Credits (PDCs) for the SHRM-CP or SHRM-SCP.
As of January 1, 2018 the SHRM Preferred Provider program was renamed SHRM Recertification Provider program. SHRM established the SHRM Recertification Provider Program to give organizations that offer education, training and/or other HR-related Competency and Knowledge programming the opportunity to award Professional Development Credits (PDCs) without pre-approval from SHRM. This rebranding clarifies for certified professionals that EPSHRM offers educational programming which can be applied towards their recertification.
---
EPSHRM is proud to announce its continuing partnership with Blue Ridge Community and Technical College, Education Partner of the Society for Human Resource Management (SHRM), to offer courses to help HR Professionals prepare for SHRM's competency-based certification: The SHRM Certified Professional (SHRM-CP) and SHRM Senior Certified Professional (SHRM-SCP) credentials.
SHRM-CP and SHRM-SCP are based on a single, comprehensive Body of Competency and Knowledge and are relevant worldwide, giving professionals the recognition and flexibility to use their knowledge, skills and competencies anywhere their career takes them.
As part of the course, participants will receive the SHRM Learning System for SHRM-CP/SHRM-SCP. Comprised of comprehensive learning modules in print and e-reader formats, and advanced online resources, these study materials streamline study time, accelerate learning and build confidence for passing the SHRM-CP/SHRM-SCP exam.
Benefits to you:
You'll benefit from:
An experienced, SHRM-certified instructor.
The SHRM Learning System, historically ranked the #1 HR certification prep tool.
Ability to acquire the knowledge and understand the behavioral competencies to help you prepare for the exam.
A structured learning experience that keeps you on track.
Opportunities to network and learn from your peers.
Tuition reimbursement and up to 36 professional development credits (PDCs).
Benefits to your employer:
The benefits of certification extend beyond your HR staff to your entire organization:
It demonstrates that your HR professionals have mastered the application of HR technical and behavioral competencies.
Certification prepares your HR staff to assume greater leadership roles and contribute to the strategic direction of your organization.
Exam preparation helps HR professionals bring new ideas to your organization that will help drive success.
It helps create a common HR language that optimizes consistency and effectiveness.
Certification is relevant worldwide, as exams cover the new global SHRM BoCK™. For eligibility requirements go to www.shrmcertification.org.
Eligibility Criteria
Applicants must meet specific educational and work experience criteria at the time they submit their application, in order to be eligible to sit for the SHRM-CP or SHRM-SCP exam. These requirements are outlined below:
SHRM-CP and SHRM-SCP Eligibility Chart
Credential
Less than a Bachelor's Degree
Bachelor's Degree
Graduate Degree
HR-Related Degree
Non-HR Degree
HR-Related Degree
Non-HR Degree
HR-Related Degree
Non-HR Degree
SHRM-CP
3 years in HR role
4 years in HR role
1 year in HR
role
2 years in HR role
Currently in HR role
1 year in HR role
SHRM-SCP
6 years in HR role
7 years in HR role
4 years in HR role
5 years in HR role
3 years in HR
role
4 years in HR role
A SHRM-CP credential holder is eligible to sit for the SHRM-SCP exam after successful completion of one three-year SHRM-CP recertification cycle.
* Less than a bachelor's degree includes: working toward a bachelor's degree; associate's degree; some college; qualifying HR certificate program; high school diploma; or GED.
The following general eligibility criteria, listed below, also apply:
Applicants must show that they have worked in an HR role for more than 1,000 hours within a calendar year, which equates to one year of experience.
HR experience can be in an exempt or non-exempt capacity.
HR experience may be classified directly, as working in an HR role, or indirectly, by consulting, educating, or educating or researching HR practices linked specifically to human resource management.
SHRM membership is not required.
This course to prepare for the SHRM-CP or SHRM-SCP exam will streamline study time and accelerate your learning with an instructor-led course and the most innovative tools available including SmartStudy tools, learning modules in print or e-reader formats and extensive multimedia online resources accessible via mobile devices.
Class Schedule: Spring 2018
January 31, 2018 - Mandatory Orientation, 6:00 PM - 7:00 PM
Class meets on Wednesdays 6:00 PM - 9:00 PM from February 7, 2018 to May 2, 2018
Non-EPSHRM Member Investment: $1,039
EPSHRM Member: $998
Spring Exam Window: May 1 to July 15, 2018
Email or Call Pat Hubbard for Registration Code, financial aid information or a discount for EPSHRM members.
Location: Blue Ridge Community and Technical College's Main Campus, Board Room (3rd Floor, Room 3300), 13650 Apple Harvest Drive, Martinsburg, WV 25403
To Register: Go to http://blueridgectc.augusoft.net/ and click on Classes.
Register Today. Classes fill quickly. For questions call or email Pat Hubbard at 304-725-7104 or phubbard@blueridgectc.edu